Why Join the Geriatric Interest Network?
The projected population statistics of Blair County show that over 19% of the population is age 65 or older. The percentage of older adults in our county significantly exceeds that of Pennsylvania and the United States. These older adult consumers bring new issues and values to the marketplace—issues that will impact the delivery of all types of services and products to this group.
The Geriatric Interest Network provides an opportunity for you to learn more about this important group while meeting others who serve older adults. Through this networking, you can remain informed about services available in the area, while promoting your own.
Whether your interests are in healthcare, banking, retail, clergy support or the legal field, the Geriatric Interest Network has something for you!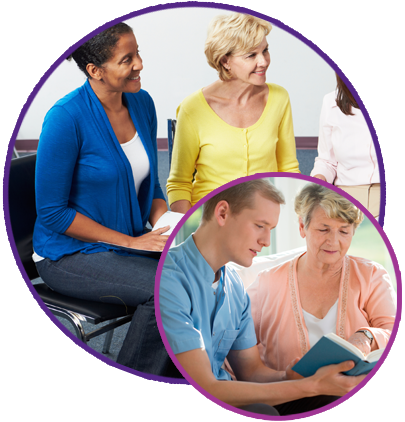 General Membership
General Membership provides support for Network activities. Membership is open to anyone providing services or products to older adults. For an annual membership fee, you will:
Be added to the Geriatric Interest Network mailing list, informing you of upcoming programs and events
Be entitled to reduced rates for educational programs sponsored by the Network
Receive free PCH training hours certificates
Receive reduced rate for nursing continuing education units
Have an avenue of access to the Task Force for those who wish to become more active and involved with the Network
Receive a Geriatric Interest Network membership card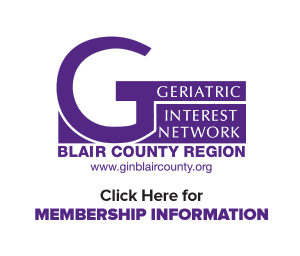 The Geriatric Interest Network of the Blair County Region
The Board of Directors provides guidance and input regarding Network activities. Members are representatives from:
Academics
Acute Care/Rural
Acute Care/Urban
Adult Day Services
Advocacy/Community Service
Area Agency on Aging
Banking/Financial
Clergy
Community Based MH/ID
End of Life Care
Integrative Care Services
Long Term Care
Legal Field
Medical Home Care
Mental Health
Non-medical Home Care
Personal Care/Assisted Living
Primary Care
Rehabilitation Services
State Agency
Veteran's Affairs
The Network Task Force manages Network operations.
The General Membership provides support for the Network's activities. YOU, our members, are the most critical component of the Network; without you, there would be no Network!